The Book Thief centers around the life of Liesel Meminger, a nine-year-old girl living in Germany during World War II. Liesel's experiences are narrated by Death, who describes both the beauty and destruction of life in this era.
After her brother's death, Liesel arrives in a distraught state at the home of her new foster parents, Hans and Rosa Hubermann. During her time there, she is exposed to the horror of the Nazi regime and struggles to find deal with the ever worsening conditions of World War 2. As the political situation in Germany deteriorates, her foster parents hide a Jewish man named Max, putting the family in danger. As Liesel copes with the trauma of her past and the violent horrors of the war-torn world around her, she embarks on a journey of self-discovery, the formation of a new family, and mostly, her life as a book thief.[2]
Liesel Meminger
Born sometime in February 1929[1], the protagonist of the story, she is an adopted girl on the verge of adolescence, with blonde hair that "was a close enough brand of German blonde" and a "smile that was starving" when she very rarely showed it. It was never directly mentioned in the book, but her biological father was branded a Communist was most likely sent to a concentration camp for this political belief. Liesel and her brother were being sent to a foster home because her mother was not able to take care of them.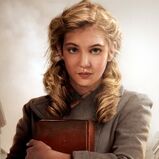 Hans Hubermann (Papa) Edit
Liesel's foster father and husband of Rosa, Hans was veteran of World War I, an accordion player, and a painter. He develops a close and loving relationship with Liesel, and becomes a source of strength and support for her throughout the novel. He, like Liesel, doesn't have much experience with reading. Together, the two help each other with reading and write all the words they learn on a wall in the basement.
Rosa Hubermann (Mamá)Edit
Liesel's foster mother and wife of Hans, Rosa is a local clothes washer, albeit being let off the job. At first, she seems very cold and frightening. However, she does feel sympathy for Liesel, and feels guilty for beating her, but she is actually a very loving person. When Max comes, she makes sure he is fed and gives he and Liesel time to talk and have fun, and Liesel eventually comes to see her as a friend.
Cite error: <ref> tags exist, but no <references/> tag was found
Ad blocker interference detected!
Wikia is a free-to-use site that makes money from advertising. We have a modified experience for viewers using ad blockers

Wikia is not accessible if you've made further modifications. Remove the custom ad blocker rule(s) and the page will load as expected.