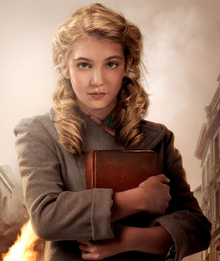 Liesel Meminger is the main protagonist of The Book Thief. She is a German teenager in World War II.
Biography 
Edit
Liesel's father and mother were communist. Her father was taken away and the same was about to happen to her mother. In order to save her children, Liesel's mother gives both of her children up. On the train ride to their new foster home, Liesel's 6-year old brother Werner dies of pneumonia. Liesel arrives at her new home alone and is introduced to Hans and Rosa Hubermann. Liesel begins to learn how to read from Hans and they even write words down on the basement walls. Liesel's first stolen book is called 'The Gravedigger's Handbook'. She receives books for Christmas or her birthday, which she is grateful for. Liesel steals 10 books in total, most from the mayor's library. When her family hides Max Vandenburg, a Jewish man, inside their house Liesel makes him feel comfortable by: cutting his hair for him, stealing newspapers for him, giving him the weather report every day, telling each other their dreams, and painting pictures on the basement walls. Liesel's best friend Rudy Steiner doesn't quite share her same interest in reading as she does, which makes them an odd duo. Liesel has feelings for Rudy, but she unfortunately does not realize that she loves him until the Himmel Street bombs take place, instantly killing everybody. She and Alex Steiner are the only ones to survive that lived in Himmel Street.
Appearance 
Edit
Liesel has a close enough hair color to the ideal shade of German blonde and dangerous brown eyes. She has long, fast legs and is said to be rake-skinny.